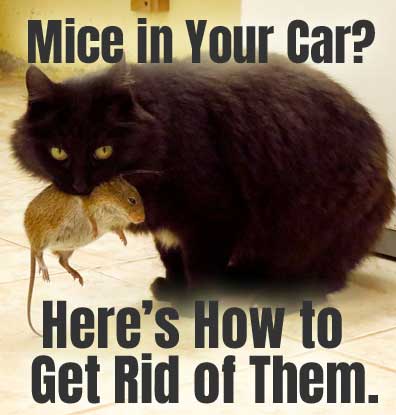 There is more than one solution for how keep mice out of your car. Of course, this will depend on your specific situation, but I've got lots of simple, low cost methods for you.
Plus, there are ways to prevent rodents from entering your garage. And therefore, getting in your car engine to nest and chew wires.
But first, what if you already have mice nesting in your car or truck?
How to Get Rid of a Mouse in Your Car Engine
If you already have a mouse living in your vehicle, you want to get rid of it, obviously. Some people buy traps and wait for the mice to take the bait.
However, you can also get an ultrasonic mouse repeller for under the hood.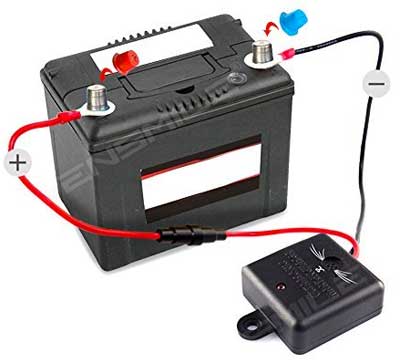 The unit does require installation in your vehicle, but the job is easy. Furthermore, once installed, the ultrasonic device continues to work on its own. You don't have to continually replace it or maintain it.
The ultrasonic waves work to humanely get rid of mice in your car as well as prevent them from coming back. You don't have to worry about chemicals, poison, a fire hazard or disposing of dead rats.
The downside of these ultrasonic units is that some people believe they work while others think they are a hoax. Since these devices have worked for me in my home, I think they are effective at deterring rodents. However, I am just one person.
How to Keep Mice Out of Your Car …with Peppermint
As you may already know, peppermint oil can help deter mice from getting in your home naturally. Similarly, some people use it to keep mice out of their cars too.
This natural method uses the same strategy as moth balls, but you get a fresh peppermint scent instead. Keep in mind that you will need to regularly replace the scented cotton balls with more peppermint oil, and a stronger, more concentrated oil may last longer.
Save Money on Peppermint Oil in Bulk
TIP: Use peppermint around your garage as well as your vehicle for maximum "repulsion".
How to Stop Mice from Getting Under Garage Door:
Rodents can sometimes chew through the bottom corner of the weatherstripping that wraps around the trim surrounding the garage door. Rick Weeks has a simple fix for that that only costs about $10. Plus, you may not have to replace your weatherstripping either.
Get Garage Door Rodent Guard for $10
Is your roll-up door where your problem lies? If so, this one simple fix can prevent rodents from entering the garage, getting into your car and eating the electrical wires in your cars. Plus, you won't have to hassle with getting rid of the mouse pee/urine smell or dead mouse smell in car vents.
On top of that, you won't have to clean up a mouse nest in your garage. Or better yet, chewed wires and a mouse nest in your car! Think of all the money you'll save!
No Garage? Try This to Prevent Mice from Nesting & Chewing on Car Wiring:
If you want to keep mice out of a car that you are not currently driving, consider raising the vehicle up off the ground. One guy uses 4 jack stands to support the car, and places the stands in 5 gallon buckets so the mice cannot crawl up the stands.
This simple, yet effective, idea doesn't cost much money, but of course won't really work unless you have a car in storage or something. Find out more here.
What I Do to Stop Mice from Coming in My Garage and Eating My Car Wiring:
Personally, I use ultrasonic pest control units in my garage. I didn't initially plan on doing this. However, when these repellers worked so well inside my house, I decided to plug one in the wall of my garage.
Of course, it makes sense to make the area around your car unattractive to rodents. Therefore, you prevent them from getting near your car in the first place. Most people don't keep pet food or other possible edibles in or around their vehicle for this reason. In addition, remove any potential bedding materials that might attract pests as well.
Plus, don't forget to seal possible entryways to your garage, including keeping the garage door closed as much as possible. The best solution for how to keep mice out of your car may be to keep them from getting near your vehicle in the first place. =)